Story of the Month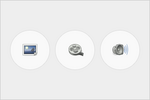 Each month I will pick a story that I think somebody has worked especially hard on. Whichever story is chosen will become a featured story. Since there aren't any articles yet, there will be no Story of the Month until July.
Contribute
To make InfoDepot Wiki the best it can be, I have added an ideas page. Anybody can edit it if they have anything they think could be added to this site. Just click here and follow my simple instructions. After you have added your idea, you can tell your friends about it and ask them to agree with it. Hopefully, with a lot of your help, this wiki can be made better!
Help
Help is always here if you know where to find it. If ever you have any questions, being bullied, seeing some horrible behavior or vandalism, leave me a message here and I will respond as soon as possible. If you are ever lonely you can email me too. I don't mind, it's no bother!
Video
Welcome to InfoDepot Wiki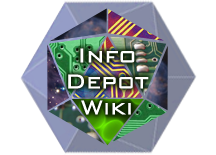 This is a InfoDepot Wiki for anyone to create their own fiction based on the magical world of Hogwarts School of Witchcraft and Wizardry!
InfoDepot Wiki
Welcome to InfoDepot Wiki! This is a site where anybody can create their own fiction based on the books in the Harry Potter series. At the moment, we have no users, so please help this wiki by joining in! The more the merrier, so don't be afraid to sign up! And if you are already a member, there is no use being shy, go on and write, we will accept any stories as long as they are not completely off subject!!
House Points
House points have been introduced to the wiki! I'm sure you will have noticed the badges and points that you recieve everytime you make an edit. They are the house points!
More information is coming soon...
Staff Pick
Abby's letter - A fab fanfic by Birdpaw
(Abby's letter story blurb here)
Letters To Wendy - Cool starting by Wetstream
(Letter's To Wendy story blurb here)
Liquid Poison - A truly brilliant fanfic by Leafwhisker
(Liquid Poison story blurb here)
Pure-Blood - An awesome story by Hiddensun
(Pure-Blood story blurb here)
The Big Pitch - A wonderful beginning by Forestpaw13
(The Big Pitch story blurb here)
Secrets and Shadows - An mazing story by Zaffie
(Secrets and Shadows story blurb here)
News
Did you know that the next Harry Potter film is being made into two movies? The first one is coming out in Novemeber!! Well, Novemeber for us Scottish and English and other peoples that I haven't mentioned anyways... - SmudgyHollz
Write a Story
Help this wiki grow by creating new articles!
Community content is available under
CC-BY-SA
unless otherwise noted.